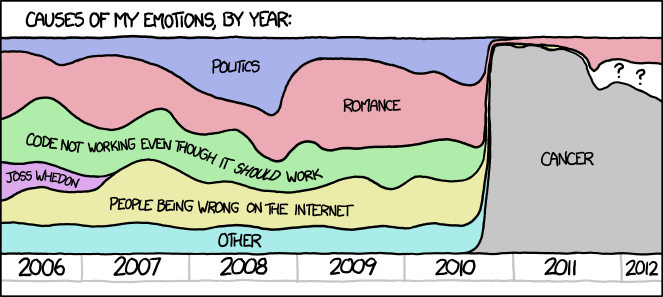 Swap out the word "cancer" for "divorce" and the rest of it isn't far off the mark. Or the timeline, which was a bit eerily coincidental when I spotted it this morning, and my "Vaguebooking" posts of the last couple of years have alluded to this.
There is little constructive to say about the experience here, and I won't attempt any hackneyed parallels between these two kinds of destructive events which afflict the lives of so many people. There are just the survivors left behind with varying wounds to heal, the debris left behind by a disaster to clean up, and the process of finding one's bearings to resume course once determined.
There is more to moving forward than surrounding oneself with the tired cliches of perseverance.
Visualization
techniques help far more than pasting quotes on the wall, but being neither artistic nor particularly athletic has limited their benefits. Even memories of performing the most mundane tasks have been helpful on some days.
One can dwell on the specifics of events and actions of others, and doubts about what could have been done differently. But the lessons learned are likely to be skewed by perception and of little use for the future. It won't be the same river again the next time you try to cross it, nor will you be quite the same person.
And every day, it seems my children get a little taller based on hash marks in the basement doorway. I understand their worlds far better than I did previously. Their interests and directions are a moving target, and part of the job that remains is to help them find their targets and sharpen their aim.
And every day the clean up continues, the repairs done, and the course resumed as before.