Concept Maps got me this link (
http://www.dubberly.com/concept-maps)
with such artwork as the following chart (link to PDF and more) makes me wish I had a reservoir of cash to throw at creative, productive people to train others and solve big problems. Just a thought.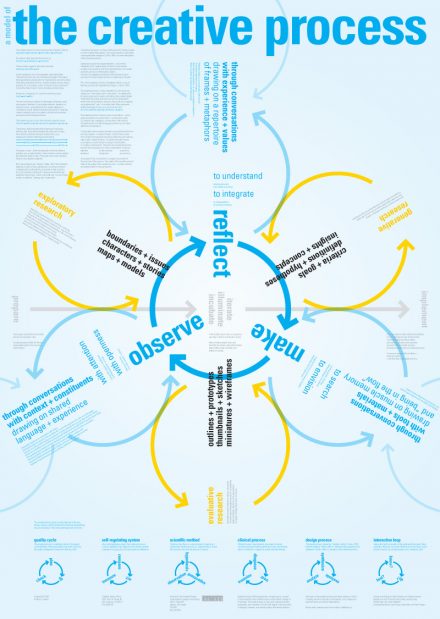 Really though I'm stuck thinking through the endgame for the dissertation. It's dawned on me that I was heavily in brainstorm mode just a little too long. Now there's the content organization problem, or as many loose ends as knots. As the chart would suggest, there's a closed loop between make, observe, and reflect, rather than a simple chain that ends with "done".
Oddly reminds me of a weekend trip to Acapulco during a term abroad in Mexico while in college, when my classmates jumped at the chance of bargain rate Parasailing. I declined when I considered the number of knots in the tow ropes... Occasional shark fin aside, all went well for those who participated. Still, I took my chances on the ground.
At some point, it'll take printing out all the scraps of content I have, putting them in a line on the floor, and shuffling away just as I did with my Senior Thesis. I had hoped the tools since my college days in the MS-DOS era would have improved, but sadly not the case. The tools I have at my disposal are proficient at "make" and less so at "observe" but sadly of little help in "reflect" beyond what I can shuffle in my limited human memory at the moment. The alternative is to make a tool to help in observing and reflecting, but that's just a little too meta to get into for the remaining timeframe.